Increase the entrepreneurial spirit of young people by making the initiative to create economic activities a common alternative for their integration into the world of work
The YoPeVa Entrepreneur project aims at increasing the number of young people that takes on entrepreneurship and starting-up a business. Thus, making the initiative to create economic activities a normal alternative for the integration of young people into the world of work. This self-employment improves the employability of young people who can be incorporated as workers of these initiatives.
YoPeVa Entrepreneur can be seen as a spin-off from the almost finishing YoPeVa project. YoPeVa is based on a good practice from Fundesplai which has already been analysed and is going to be improved, scaled up and disseminated to use on a European level.
Learn more about YoPeVa Entrepreneur by reading our brochure.
Click here or on the brochure to download the entire document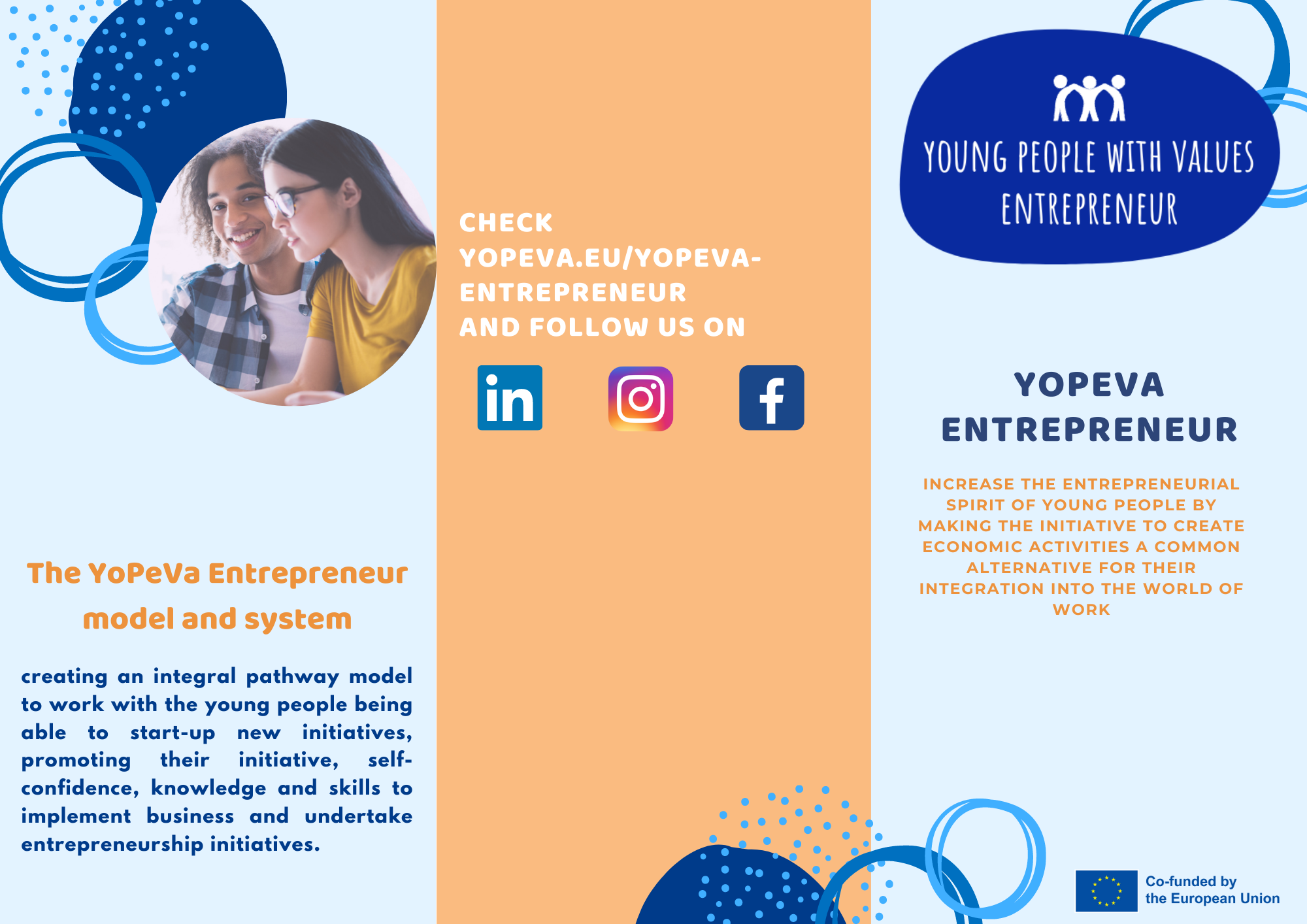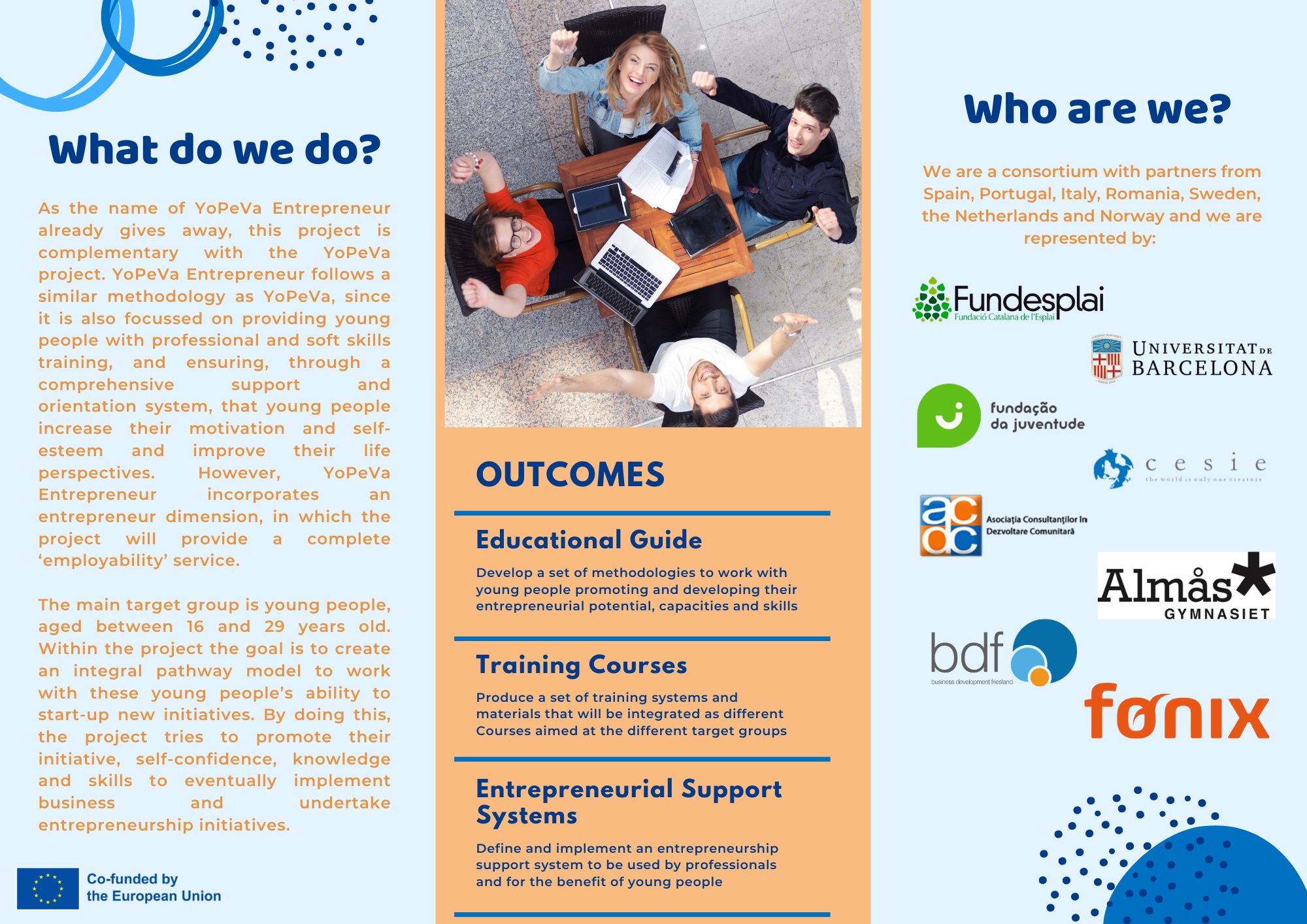 Results
Within the project, we want to promote working with Young People with Values in helping them to start their own companies. We will work towards this goal by:
Developing a set of methodologies to work with young people promoting and developing their entrepreneurial potential, capacities and skills
Producing a set of training systems and materials that will be integrated as different Courses aimed at the different target groups
Defining and implementing an entrepreneurship support system to be used by professionals and for the benefit of young people
Latest News
Just a few days away for our next Multiplier Event!
This Thursday it is happening again, our third Multiplier Event organised in Suceava! ACDC will welcome you all to their premises, where we will tell you everything about our progress and the most importantly the YoPeVa Entrepreneur programme and our training courses.
Moreover, ACDC has invited local stakeholders to tell you all about young entrepreneurship and the support of these young entrepreneurs.
Here is a more detailed agenda for the event happening on the 2nd of November:
10:00 – 10:30 – Welcome byVasile Gafiuc – ACDC President, Ioan Cristian Șologon, Subprefect from the Suceava County Prefect Institution and Teodora Munteanu – Vicemayor from the Suceava City Hall.
10:30 – 11:00 – Presentation on YoPeVa Entrepreneur programme by Francisco Loras, Project manager in Fundesplai
11:00 – 11:30 – Group discussion and presentation on how to use and apply the YOPEVA Entrepreneur training courses by the YoPeVa Entrepreneur Consortium
11:30- 12:30 – Practices and policies at local and regional level for supporting youth entrepreneurship by Vasile Gafiuc who will moderate the presentations of Carmen Fediuc from the Organization of Women Entrepreneurs from UGIR – "The influence of the European economy on entrepreneurship in Romania", Anca Capverde from the Suceava County Employment Agency – "Youth employment policies in Suceava county", Gabriela Pâslaru, experienced in Assist Software, and Liliana Agheorghicesei from IMM Patronages, SUCEAVA county – "Entrepreneurship Policies through a Gender Lens".
12:30- 13:30 – Q&A/ Press conference/ Networking session
13:30 – 14:30 Lunch
14:30 – 17:00 Study visits to
• Social enterprise from Suceava region or Entrepreneurial Hub
• Cultural visit – Voronet Painted Monastery, a monument included in the UNESCO World Heritage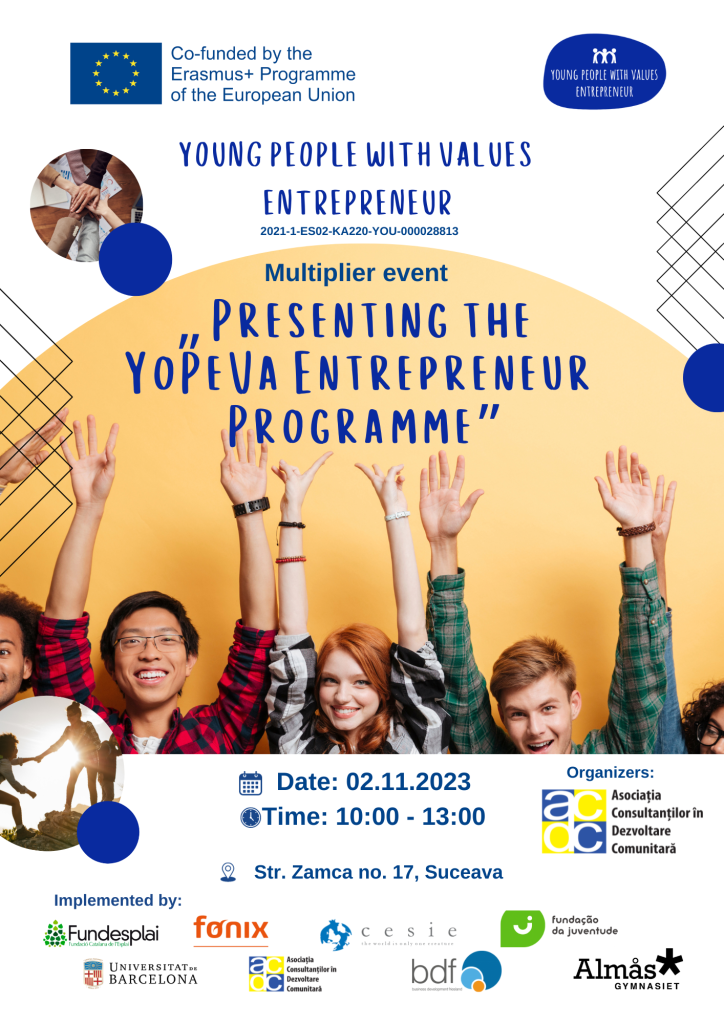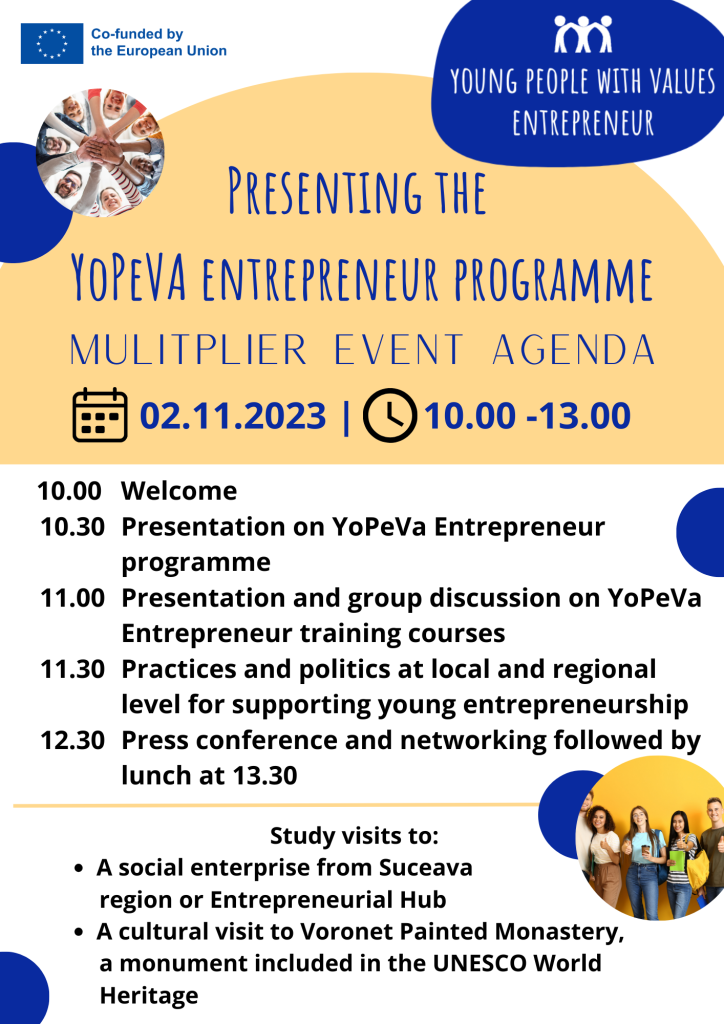 April 2023 Newsletter
Read our second newsletter here!
Second Mulitplier Event is on the way!
In March Fundação da Juventude will host our second multiplier event in Lisbon. During this event will we launch the Entrepreneurship's Course!
Moreover, an interesting group discussion with stakeholder related to empoloyability, youth policies and entrepreneurship will be held.
Do you wonder how the Entrepreneurship's Course looks? Well, register now for the mulitplier event and be among the first people who will see this!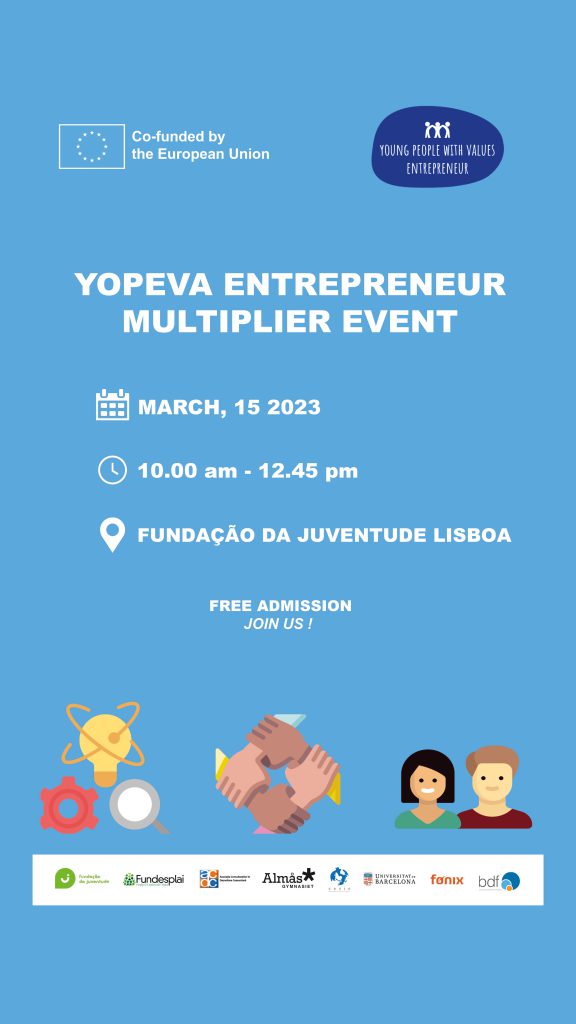 Read our first newsletter here!
Other information
Second Multiplier Event has also been a success
In March 2023 Fundação da Juventude hosted our second mulitplier event, which was held in Lisbon.
During this event we launched the Entrepreneurship Course, where we showed the learning methodologies for the courses.
Moreover, we invited some guest speakers to share their experience with entrepreneurship among youngsters.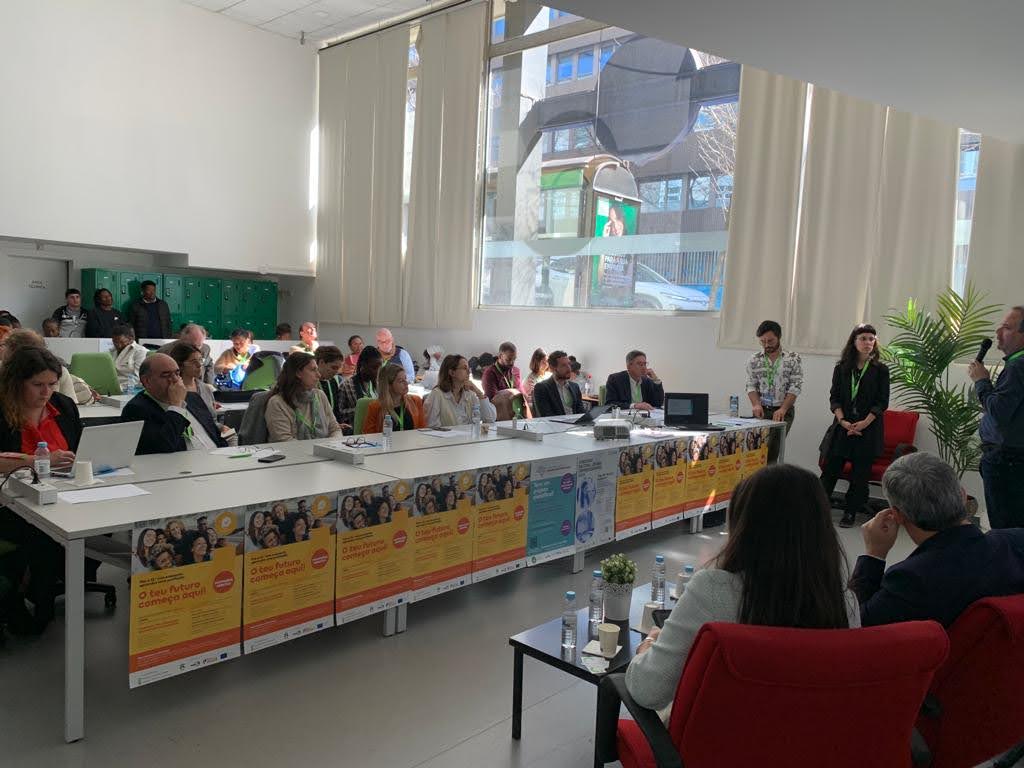 The framework for the educational guide is finished
The project has started with the creation of the educational guide, which consists of 5 basic modules and 6 conceptual modules. When the guide was developed, each partner country shared the guide with some local stakeholders and asked for feedback on the structure and ideas for content. The feedback received was very detailed and therefore useful to make an effective and good framework for the guide. Thanks to the feedback, a solid foundation for the training courses and materials is made.
First Mulitplier Event in Norway
In September we've had our first Multiplier Event in Sandefjord, Norway!
With the team of YoPeVa Entrepreneur we've had our first Mulitplier Event in Sandefjord, Norway. Together we have brainstormed, discussed and developed a set of methodologies to work with young people promoting and developing their entrepreneurial potential, capacity and skills. Which are the first results of the project.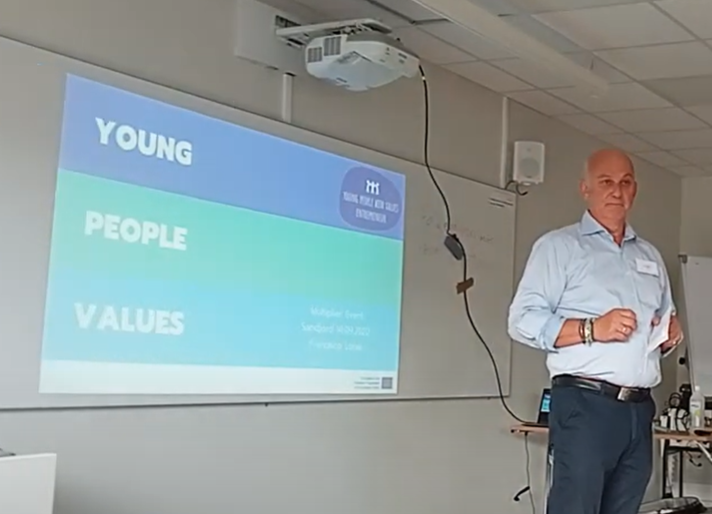 Our partners